When two spouses argue, a third is happy.
At least that's the case with Laura and Eduard.
Shortly after their wedding, the young couple is already facing the end of their love.
But for a successful divorce, a good reason is needed: with the handsome Mr. Hermann, one is quickly found.
Their unhappy marriage takes its course and enjoys the greatest media interest: whether in newspaper reports, TV appearances or a big broadway show – the media devour the young couple and their story. By the time the two realize that they do belong together, however, the public already has a firm grip on their fate.
•••••••••••••••••••••••••••••••••
Paul Hindemith's "funny opera in three parts" precisely hits the sore spot of media sensationalism between reality show, yellow press and social media.
Director: Sonja Trebes     Conductor: Giuliano Betta    Sets: Dirk Becker
Costumes: Jula Reindell Video: Moritz Hilsch Choreo: Andreas Langsch
Eleonore Marguerre – Laura
Piotr Prochera – Eduard
Martin Homrich – Der schöne Herr Herrmann
Almut Herbst – Frau M.
Tobias Glagau/ Adam Temple-Smith – Herr M.
Philipp Kranj – Hoteldirektor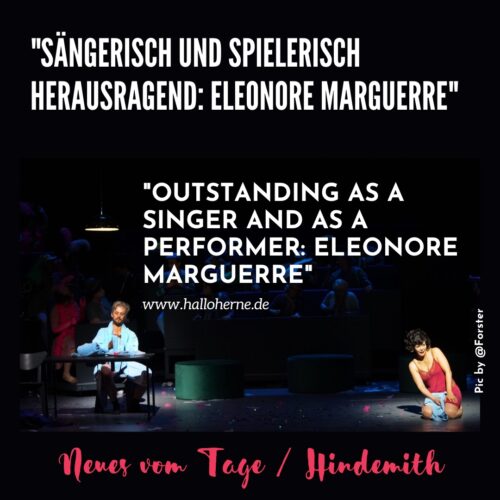 Tickets: https://musiktheater-im-revier.de/de/performance/2021-22/neues-vom-tage