There we go in Nuremberg! A new adventure to this famous Operetta by Offenbach!
The Drama Director Andreas Kriegenburg is staging his first ever Operetta after acclaimed Opera productions like the "Ring des Nibelungen" in Munich and many more.
I'm looking forward to playing this character of a slightly crazy, bossy and permanently in love princess Staatstheater Nürnberg.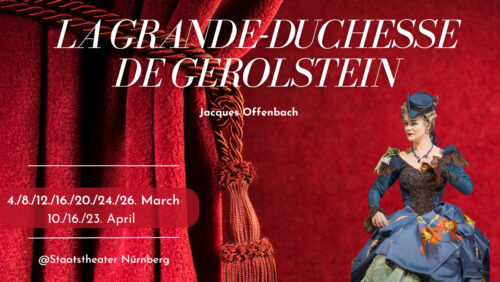 Eleonore Marguerre – Grande-Duchesse
Martin Platz – Fritz
Chloë Morgan – Wanda
Hans Gröning – General Boum
Michael Fischer – Baron Puck
Sergei Nikolaev – Prince Paul
Pius Maria Cüppers – Nepomuk
Mats Roolvink – Baron Grog
Conductor: Lutz de Veer
Stage: Harald Thor
Costumes: Andrea Schraad